Posted by grahak on Friday, November 28, 2014
It was an international team running from Adelaide to Canberra. Eleven of us for most of it, sometimes swelling to fourteen with guests and temporary members. Besides running, each member would be delegated different tasks. Because two of the runners were professional photographers, sorting through their thousands of shots each day counted them out of everything else.
Everything else included team tasks such as meals - breakfast, lunch or dinner, provisions, clean up, support van maintenance and clean up, media, marketing, daily schedules, daily web reports, ceremony organisation and accommodation. In short after a hard days running there was always a lot more to do.
Team Building
Working together meant we could accomplish most of our tasks. Delegating a leader responsible for each task with a separate team surrounding them meant quality was assured. Some people had different strengths e.g media for me, and weaknesses e.g cooking for me, and these were quickly identified.
Being flexible and making the necessary adjustments was a necessity. For instance if you were on meals and arrived at the accommodation and found there were no cooking facilities, it was up to you to set up the gas burners and find a camp area where this could be done. Even if you didn't feel like eating, the other 10 runners were expecting a meal, so we could get on with the easy and funnest part of the Peace Run....running!
We met the Goolwa Mayor Kim McHugh on my day 2. Fantastic leader. He has served on the council for 19 years and this was his last week. It must have been a highlight for him. The peace run arriving, local youth speaking on peace and displaying their art and an international team visiting his beautiful shire
which is at the mouth of the mighty Murray River.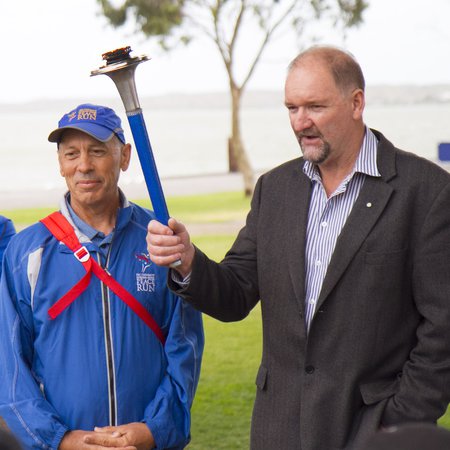 Running out of town, gelling with my team mates and international friends, everything was great and the roads represent a great place to fit in some interval training if you are feeling good.
Tags:
running
team building
leadership
peace run